Kitchen Ventilation System
We are specialized in the treatment of air from the kitchens. Kitchen ventilation presents the problem of grease, smoke and odors, not usually found in other ventilation systems.
We use various stages of filtration for Ecology units (ESP / Bag filters / Activated Carbon Filters / UVC / HEPA / ON100 ) etc . All the filters are UL listed tested for it's performance with Oil / grease /smoke /odour etc in our test facility before despatch.
We design, manufacture UV hoods (Brand : Go Green) , Misty hoods (Brand : Go Green) and Water spray filter systems for the kitchen ventilation systems following strictly DW 172 standards.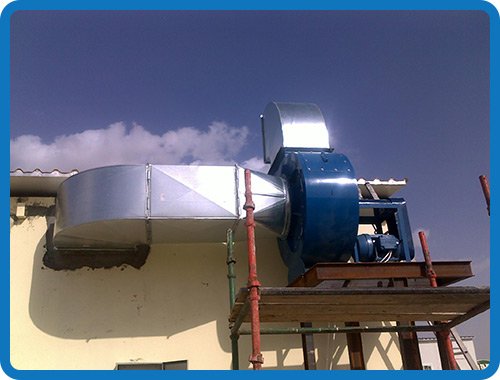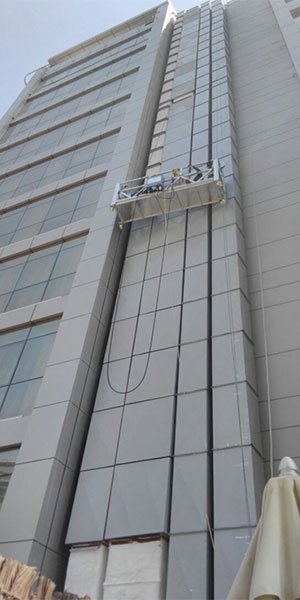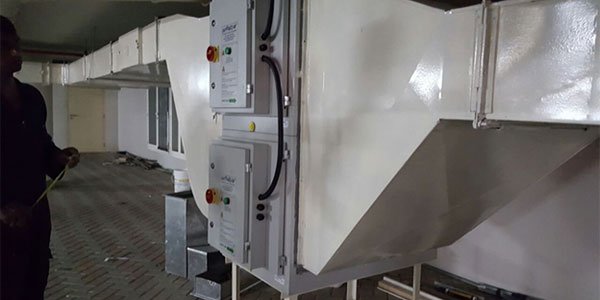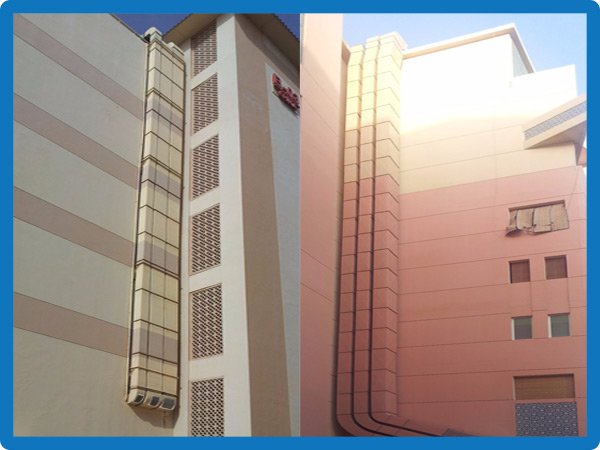 UV Hood
There is a growing recognition of the risks to health, firehazard ,and airquality from the cooking emissions. Our Go Green UV hood claims two step process to reduce the emission of grease and smoke. High efficiency baffle filters is the first step to capture more emitted mass . Our hoods are equipped with High efficiency baffle filters (Longar , UK) / Cascade filters (Franke, Germany) to serve this purpose. The filters are UL Listed / VDI & ATSM tested with a filtration efficiency up to 80 % for 9 dp [µm] particle size.
The second step is UVC photons and ozone drive photo-decomposition and oxidation reactions of greasy constituents making the inner lining of hood and ducts free from oil and grease deposits. Gogreen UV lamps are tested for 9000 hrs with a light intensity 254nm range @ 1m.
All our hoods are equipped with UL listed , IP 65, V-0 fire rated LED lights.
Our JET AIR VENT principle in the GoGreen hoods makes the system energy efficient reducing the exhaust and treated fresh air volume by 30 %.
Misty Hood
An adequate ventilation method is required to eliminate smoke ,VOC , grease particles and to reduce the temperature on the wall surface kitchen plenum .This can be achieved implementing Mist hoods. The mist curtains are made using Flat water spray nozzles that capture the airborne particles and part of the odors and finally conveyed to the drain.
Some of the key features of GoGreen Mist Hood are:
Some of the key features of DUMECH Misty Hood are
Easily Serviceable.
Fully automatic operation to prevent loss of water.
Completely 100% Stainless Steel weld construction.
All metal design makes them more durable.
Reduces buildup of grease in the duct line.
Reduces fire hazards in hood as well as in the duct.
User friendly HMI interface Control Panel.
ON / OFF switch on the hood for easy access.
Auto shut off in case of fire.
Exhaust fan and hood interlinking option in the control panel.
Factory installed spray and manifold assembly
Water flow monitoring system with Alarm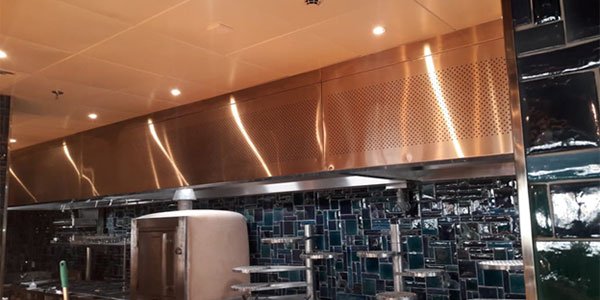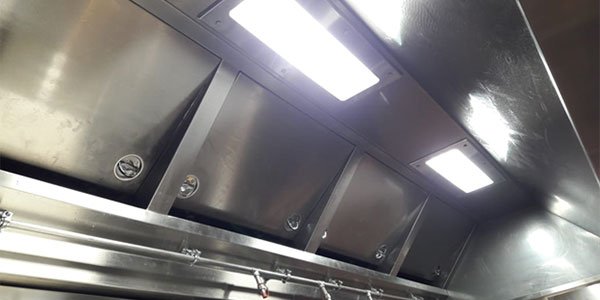 ECOLOGY UNITS
Dumech ecology units use various stages of filtration in our system including ESP, Bag filters, Activated Carbon Filters, UVC, HEPA, and water spray filter system making 100 % efficient oil and smoke free system.
Selection of Ecology Unit:
In commercial kitchens, determine type of food to be cooked. Is it light duty, medium duty, heavy duty or extra heavy duty cooking. This will determine right selection of filters and stages of filtration required inside the Ecology Unit.
The Ecology unit filters will be associated with an internal static pressure loss. The duct work and other duct components etc will constitute external static pressure loss. The sum of internal and external static pressure loss will determine the total static pressure of the Extract fan.
Our filters are UL listed, tested for its highest performance in Test Lab.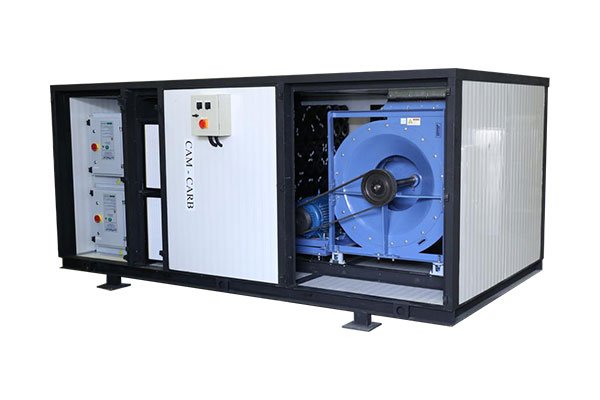 Water Spray Filter System
Dumech's Water spray filter system is the best option to reduce the temperature of kitchen extract air from 100 deg to 30 deg celcius . It also helps to arrest Grease / ash content in the air. The system eliminates the risk of fire.
Working Principle:-
The contaminated high temperature air passes through the primary mesh filters where the grease and ash will get trapped.
In the second stage, the water is sprayed through high pressure nozzles, so that the air is mixed with water spray and get into the collection tray and finally to drain.
The temperature of the air will come down after this stage and finally the air is passed through the mist eliminator before leaving the air through the duct.
Highly recommend stainless steel duct from the delivery of unit to a length of 2 meters.
Applications:-
Water spray filter system is generally used for kitchen equipments like Pizza ovens, Tandoor, Barbeque , Rotisseries.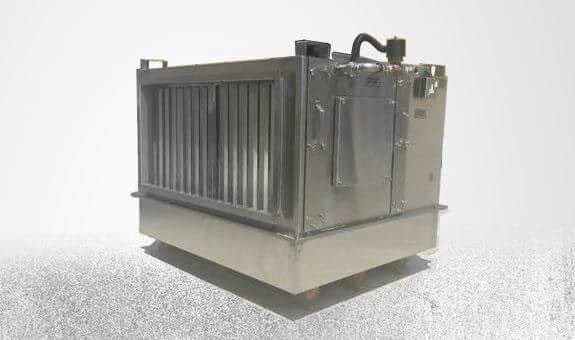 WATER SPRAY FILTER SYSTEM
AXIAL INLET –AXIAL OUTLET
AXIAL INLET-RADIAL OUTLET